1 Week Guide to El Nido - Palawan, Philippines
So, you're planning a trip to El Nido, awesome! The planning stage of a big trip can be really fun but can quickly become overwhelming. I just got back so I'm here to tell you everything I can to make your planning process more manageable.
Getting There
If you are flying all the way from Florida, like I did, you have my sympathies! I didn't think I was ever going to make it! To get to El Nido, you need to get a flight from the Manila Airport to El Nido, or you need to get a flight to Puerto Princesa and take a bus from there. Flying to Puerto Princesa and taking a bus the rest of the way will save you a little bit of money, but it's at least a four-hour ride to El Nido, and in my opinion, it's worth the cost just to fly straight there. If you are flying straight from Manila to El Nido, you will need to book your flights straight from the AirSwift website. That is the only airline that will take you there, and you won't be able to find flights through SkyScanner or a site like that.
Where to Stay
Outpost Hostel! No doubt about it! This hostel is social, it's a lot of fun, the facilities are nice, their restaurant is good, they have all the tours you would want to take, IT'S ON THE BEACH, and I have nothing bad to say about it! The staff is so nice and also really helpful. I made an awesome group of friends here, and as a solo traveler, I would recommend it! I'm just going to put some photos below, and you can see for yourself.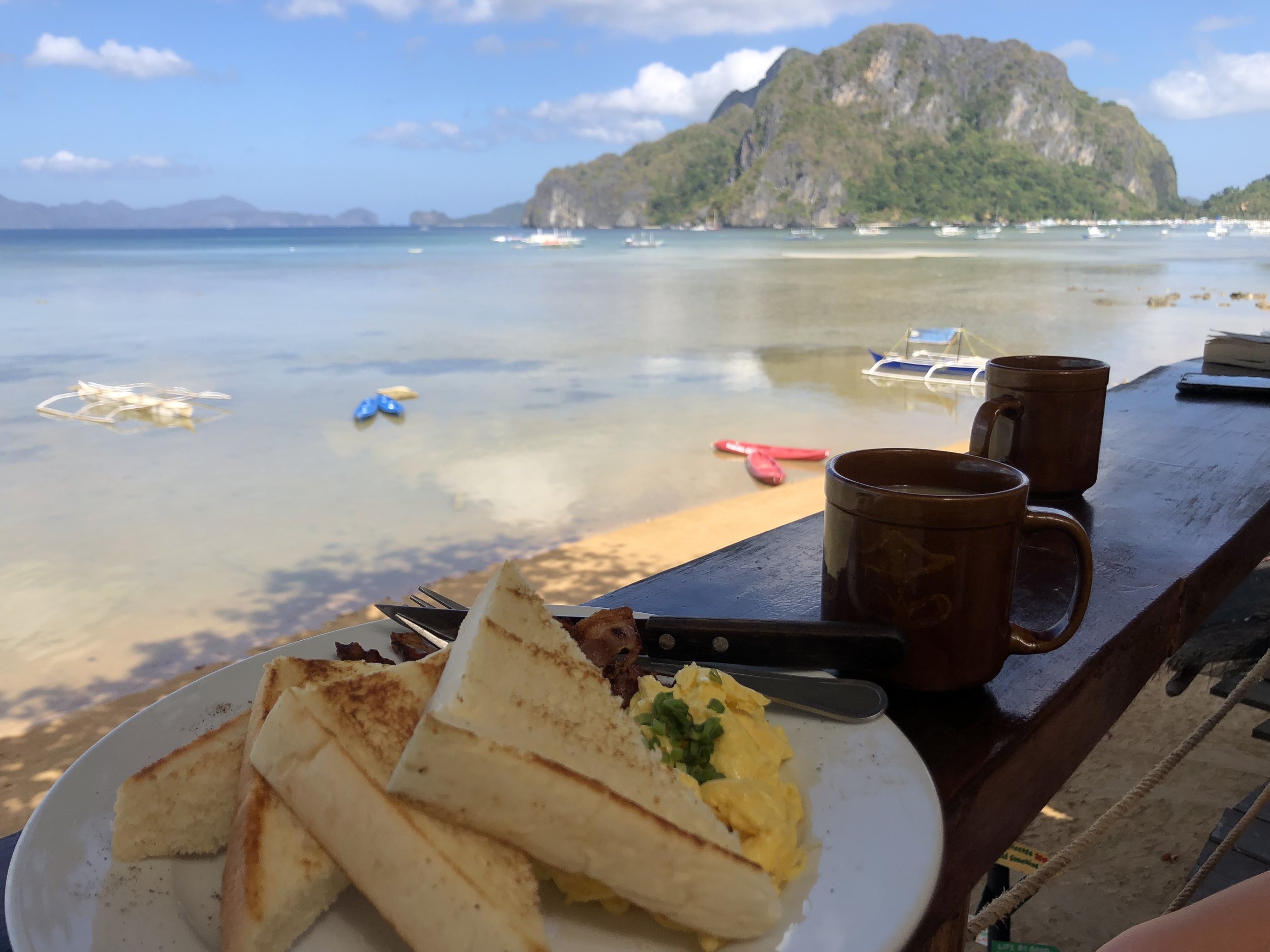 If you have a bigger budget and are looking for an inclusive resort experience, El Nido Resorts is where it's at! I spent the first few days of my trip at the Miniloc Island resort, and it was a dream. Tours, snorkeling, paddle boarding, kayaking, meals included, there's a pool, and it really is a beautiful place.
What to Do
Take an island-hopping tour! I hear that tours A and C are the best if you get one in town. I took mine with the hostel and toured the northern islands. I was sick for a lot of it, but it was a beautiful place to be sick I guess… Joking aside, it was awesome, and I would love to do it again. Under better personal circumstances.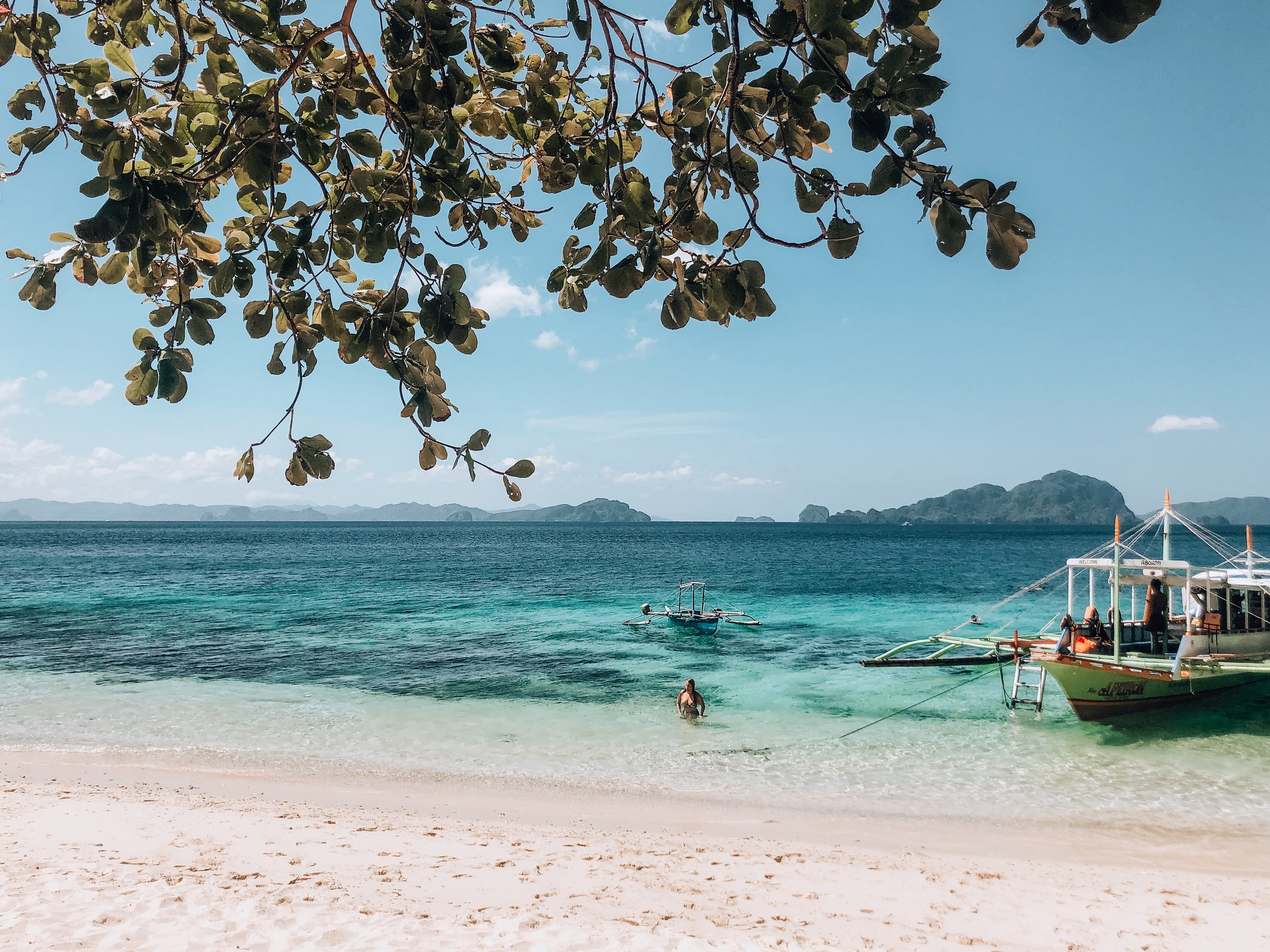 Las Cabanas Beach
This beach was just down the street from my hostel, and it was really lovely. It was a beautiful place to watch the sunset, there were lots of restaurants in the area, and a lot of people go there to have dinner and watch the sunset. There is also zip lining there! I intended to do that…but never got around to it. Happens to the best of us, am I right?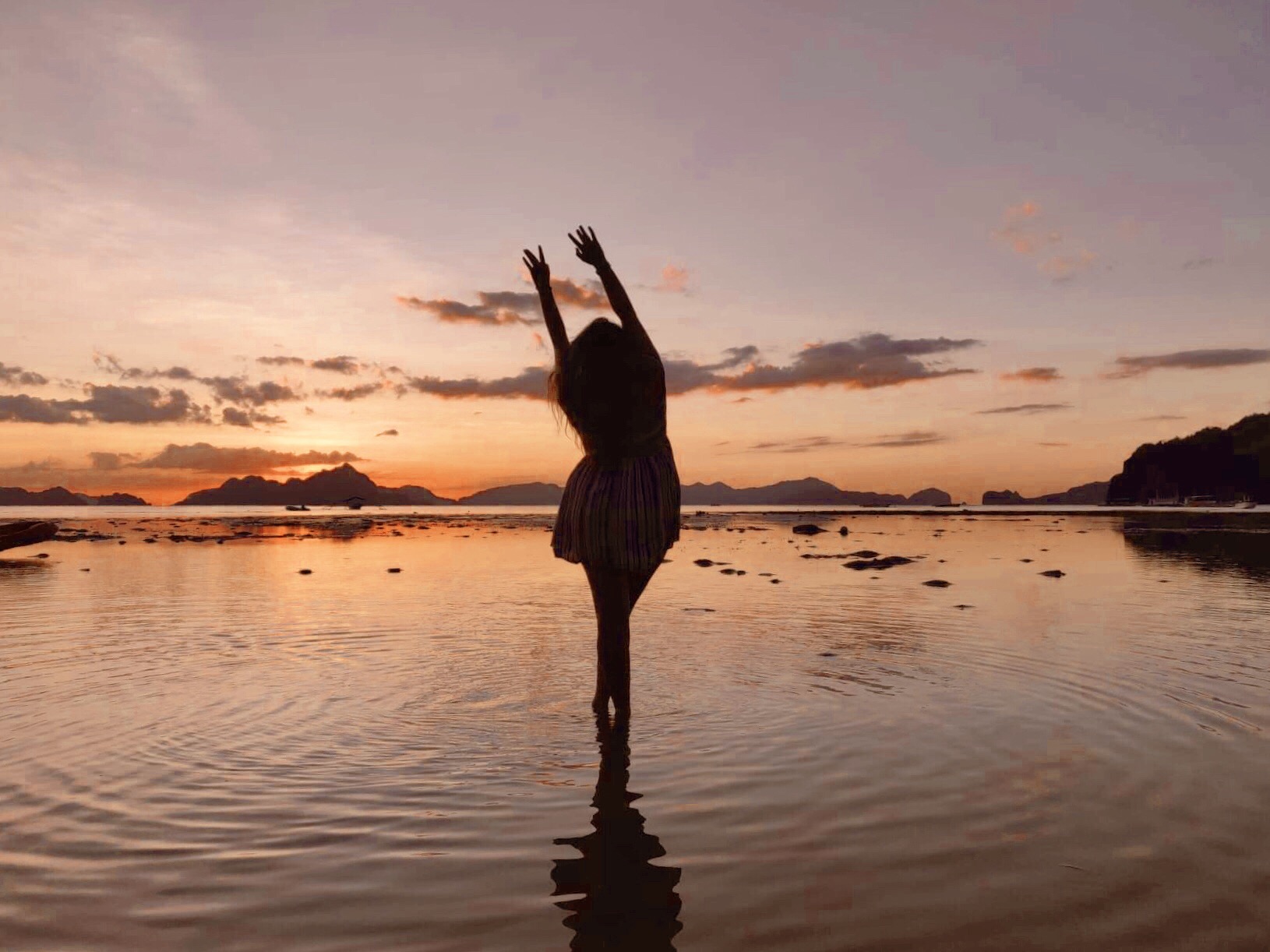 Nacpan Beach
You can't walk anywhere in El Nido without someone in a tuk-tuk stopping you and asking you if you need a ride to Nacpan Beach. It's an excellent beach though, and you should go at least once! I believe we paid 1,200 PHP roundtrip and had six people in two tuk-tuks.
HEADS UP- This beach is about 40 minutes away or so and is where the Mad Monkey hostel is. If you are considering staying there, be prepared to have to take a really long ride to go anywhere else.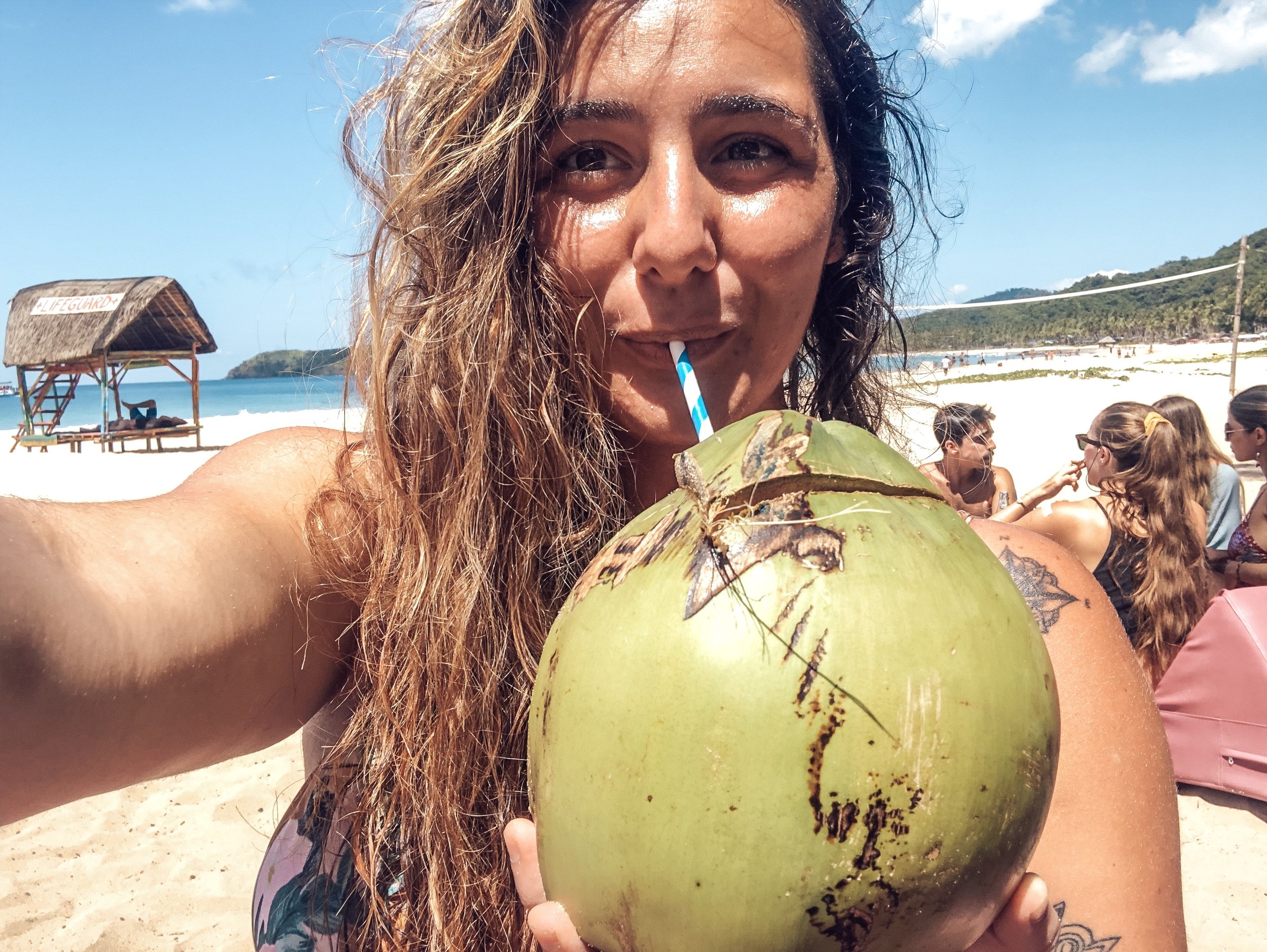 Visit Waterfalls
There are two waterfalls in El Nido that I know of and they are on opposite sides of the island. The smaller of the two is actually on the way to Nacpan Beach, so if you are going all the way there already, it might be worth stopping to see the waterfall on the way there.
The Birdhouse
There is a restaurant at Las Cabanas Beach called The Birdhouse, and we had a really good meal there. I found out about them because they slid into my Instagram DM's (LOL), but I'm glad they did! It was a little hard to find, you have to walk to the end of the beach and look for a small wooden direction sign that says "The Birdhouse" and follow a trail to some REALLY steep stairs, and climb your way up to the restaurant. The view was beautiful, and the food was delicious. It was a little pricey, but worth it. No more than what you would pay for a typical dinner out at home, but expensive for SE Asia.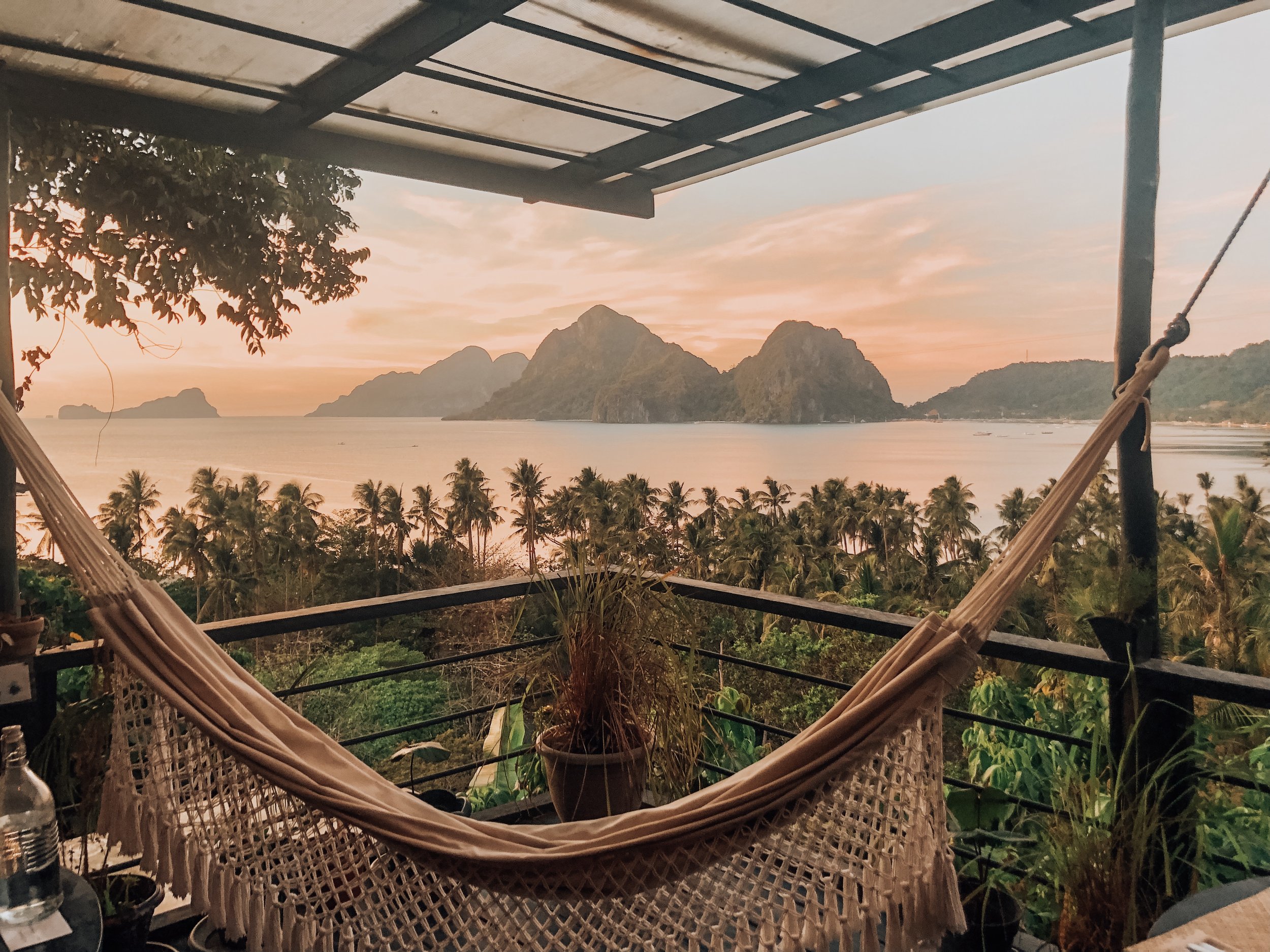 Nightlife
There are a couple of fun bars in sort of a downtown area. I didn't go every night, but when the hostel quieted down around 10-11pm every night, a group would go down there together.
Well, I hope that helps! If you have any questions feel free to slide into my Instagram DM's like The Birdhouse did or leave me a comment here!